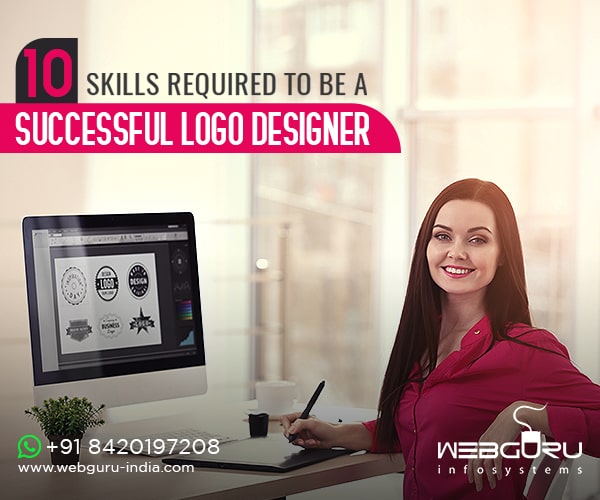 Do you believe having an artistic bent of mind? Is doodling your passion? Great! You may have a bright future as a logo designer! And given the rapid demand for corporate identity design services in today's competitive age, logo designing can be a rewarding career!
But there's a catch!
Only an artistic mind is not enough to be a logo designer! You need to acquire adequate skills to make a mark in this industry. Wondering what are these skills? Keep reading!
Skills Required to be a Successful Logo Designer
1. Sense of Colour
Designers must possess proper knowledge of the colour palette. A thorough understanding of colour theory will help aspiring designers to create a harmonious effect by combining multiple colours.
Colour is not only a visual element but also delivers a message and establishes brand identity. Implementing the right colours bears a crucial significance in influencing human psychology.
2. Knowledge of Typefaces
The use of the font is a crucial part of a logo. The typefaces must be readable and in sync with your brand image. For instance, the Waltograph font used in the Disney logo has a cartoon-like effect, ideal for the company's nature.
Again, you need to choose fonts that best suit the colour and design of your logo. For example, recall the logo of Starbucks. The bold and white coloured fonts used in the logo are easily readable and pop-out from the green background.
Here's a quick tip: The light coloured font is better suitable on a dark background and vice versa.
As you can understand, knowing how to select, create, or pair appreciable typefaces with backgrounds and visuals is of paramount importance in the career of a successful logo designer. Improved knowledge of tracking, line-height, kerning, modifying layouts and designs, and balancing figures and white spaces among other skills are expected from a logo designer.
3. Creative Thinking
We started this article with the assumption that an aspiring logo designer must have an artistic bent of mind. This, along with creative thinking is a fundamental skill required to become a successful designer.
To communicate the personality and identity of various brands through unique symbols, the designers should have a creative spirit. With an eye for the aesthetics and minute attention to details, they need to design an expressive and engaging logo.
Remember, a logo can make or break the impression of a brand. A clumsy logo reflects a lack of professionalism. As a logo designer, you need to bear the responsibility of presenting different brands in a unique and appealing manner. So, it's important to brush-up and enhance your creativity at any graphic design training centre.
To improve your perceptivity and visual representation skill, you may observe the unique logos of famous brands. Learn the approach of successful professionals at any logo design company in presenting noteworthy logos. This will help you to identify your weakness and expand your horizon of shaping distinct ideas.
But never, we repeat, never try to copy others' artworks! For this is not only plagiarism but also shatters a brand's reputation. So, bring your mind-mapping, sketching, and brainstorming skills to the table and develop a remarkable logo.
Here's a step-by-step guide to design a logo. Take a look.
4. Communication Skill
As a logo designer, you'll have to communicate the brand message through visuals and text. That's why superior interpersonal and communication skills are required to achieve success.
To begin with, you need to understand the brand identity perfectly. And for that, you need to exchange various concepts with the clients. This requires articulation skills and writing skills to understand the project briefs and the way to submit proposals.
These skills are essential for any logo designer as they need to communicate with the clients in person or through calls, emails, messages, or even video chats. They need to comprehend the clients' requirements and convey relevant solutions with clarity.
5. Technological Skill
Balancing the inherent artistry with practical appeal and functionality is an important skill for any logo designer. And in this era of digitization, you need a proper understanding of technology. To ease out your designing process, you need some advanced, feature-rich, and user-friendly tools.
As an aspiring logo designer, you must have hands-on training in the advanced tools like Illustrator, Adobe Photoshop, InDesign, Freehand, and others so that you can easily turn your thoughts into a smart piece of art!
Here's a list of a few digital design software and technology to start with:
Adobe Acrobat, AI Logo Maker, Creative Suite, Illustrator, Dreamweaver, Photoshop, InDesign, CSS, and HTML, Quark and QuarkXpress.
6. Illustration
We have already discussed the importance of colour and typefaces in a design. Well, these are only two elements. But producing a great design demands having a greater skill of illustration. The design needs to incorporate all the individual elements and communicate the right message to the audience.
The role of a brilliant logo doesn't stop at catching people's attention but continues to keep them engaged. A logo should remain memorable for a long time. This is the power of visual storytelling that lies at the deepest root of design. This story must be integrated with the brand image.
And a successful designer must possess and hone this illustration skill throughout his/her career.
7. Precision
Since there's not much space in a logo to implement numerous logo design elements, tweaking the minute details of any element like colour, typeface, image, or spacing can make or break a logo.
That's why the level of precision and accuracy of a logo designer may shape or ruin the identity of a brand. And the more you practise; the more you can hone these skills.
8. Punctuality and Time Management
Time management is a crucial aspect in the corporate world. As a logo designer, you may have to deal with multiple projects at the same time, come up with unique ideas and deliver optimum results.
Multitasking over a long period, meeting the clients' requirements and strict deadlines, brainstorming creative ideas, communicating with others, and making necessary modifications – sounds a lot of tasks, right?
But trust us when we say it only sounds scary and not so in reality.
With a sense of responsibility, punctuality, organizational skills, and flexibility, you can easily deliver quality logo design services within the turnaround time.
9. Planning & Marketing
Strategic planning is one of the fundamental requirements for becoming a logo designer. Only through this, you can achieve any short or long term business objectives.
And of course, driving customer interest should be one of your primary aims once you are employed in a graphic design company. Instead of simply designing a logo, find a way to provide a wholesome solution that also includes how to market this logo and set a distinct brand identity. This professional approach will not only enhance your design skills but also assist in your career growth.
10. Accepting Constructive Criticism
We understand that every design is close to your heart but this emotional attachment can often cloud your judgement. And this becomes a hindrance in exploring your potential, for the moment you are satisfied you cannot progress anymore.
So, keep your aspirations alive! Accept constructive criticism that will help you to develop your skills. Staying relevant and constantly upgrading expertise is the key to survive and sustain in this industry. Stay open to valuable opinion, collect objective feedback, improve your designing skills and repeat once again! You may even contact a professional corporate identity design community to receive an objective judgement of your work.
Conclusion
So, what are you looking for! Enrol yourself in any graphic designing school and develop the expertise to become a logo designer!
Oh, and don't forget to share the article with your friends. Learn and let learn!