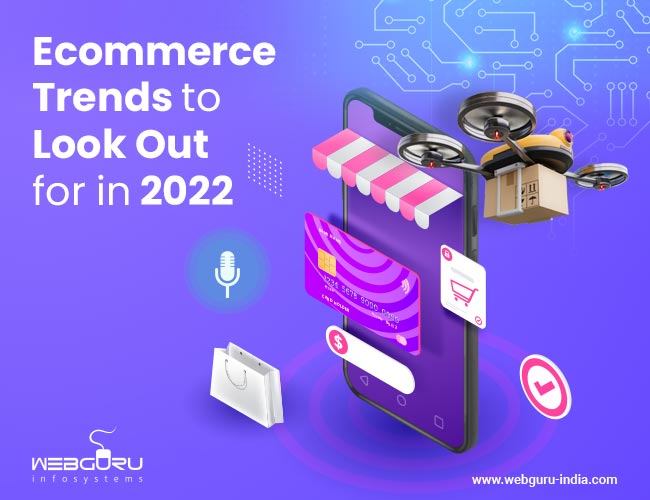 We have entered the last phase of 2021, the year that has witnessed a major growth in the eCommerce industry. As predicted by top experts, 2022 is expected to usher in additional growth for the eCommerce industry.
Besides growth, the eCommerce industry has undergone many changes and continues to do so. Technology has played a major role in this area and with many turning online to purchase and avail services due to the pandemic, the greater focus has been on improving the 'user experiences'.
Ecommerce websites, in fact, have transformed a lot over the years. This is why if you are looking to upgrade your website, it's best to hire the services of top experts in eCommerce website development.
To know what more is about to change in the eCommerce industry in the year 2022, our experts have decided to delve deeper to understand-
How will the Ecommerce Industry Change in 2022?
Let's dig in further to understand the expected changes in the eCommerce industry in the year 2022.
AI-enhanced selling experiences
Artificial intelligence is expected to continue expanding its dominance over eCommerce. For humans to optimise every selling experience for every individual is not a feasible idea. Artificial Intelligence in this case can rescue both parties and can enhance the selling experience manifold. Systems like ERP and CRM enabled with machine learning can bridge the data gap and perform a great job for retailers who have less data for a great AI performance.
Voice search will take the lead
As per the latest developments, more and more customers are opting for voice search options for a better and faster user experience. Keeping pace with the fast-paced life, voice search options is expected to play a key role in changing the eCommerce market. Websites incorporated with both website and mobile optimised voice search options may outperform other players in the market.
However, with a deeper understanding of where the trend is heading, we can easily say that voice search is likely to fast take the lead among other search methods and can become a necessity in the next few years.
If your website is not having the feature of a voice search option, you may hire the services of one of the top website design companies to incorporate the feature into your website.
You can also refer to this blog and know what eCommerce website pitfalls you must avoid to keep up with the latest developments.
More payments options are available
Today, most retailers are focused on enhancing the user experience in  order to stay competitive. For instance, they incorporate multiple payment modes in their respective eCommerce platforms to ensure their customers have more than one payment options to choose from. In addition, these retailers also offer safe payment options in the form of 2-tier authentication systems such as the use of One-Time-Password (OTP) and other advanced methods.
In 2022, we can expect that more retailers will continue to offer such safe payment methods and give customers more reason to shop online.
Use of augmented reality to visualise purchase
Most of the time users are on the lookout for tried and tested rules of shopping. Also, they are demanding a better online shopping experience. Here, technology like augmented reality has significantly improved and fulfilled many of these demands. For instance, while choosing wall paints, users, with the help of augmented reality can virtually see the appearance of their walls imbued in specific colours, and then decide on choosing one that suits their taste.
In 2022, we are expecting a rise in the implementation of augmented reality in the ecommerce domain to further enhance the user experience.
Subscription model-driven growth
Ecommerce may witness more subscription-driven growth in the coming year. Subscription has helped to retain customers across the eCommerce industry. Thus, business houses are creating more and more subscription models to help convert their customers into loyal customers.
Focus on green consumerism or sustainability
Green consumerism and sustainability have become the latest buzzwords in the eCommerce industry. From consumers to government authorities, more people have become aware of environmental concerns and are looking to go green. This has led to retailers doing away with extra packaging and introducing bio-degradable materials for packaging. Besides, retailers are experimenting with reusing and recycling materials for sustainability.
Multi-channel focused customer support
Customers trust service providers who offer prompt and responsive end-to-end customer support. This is why multiple channels of customer support look to improve their feedback mechanism. Today, in addition to live call and chat support, bot-based chat support is helping customers to shop faster and better.
In the days to come, these chatbots as predicted by experts are likely to turn to self-learners and help customers better by understanding/analysing their inputs and providing solutions in real-time.
If you want your eCommerce website to deliver superior user experiences, you can incorporate such technologies into your website with the help of experts of any top website design company.
Take a look at this blog and reconsider your eCommerce website design to stay up to date.
Personalised packing and enhanced shopping experiences
Today, personalised services are not restricted to greeting a customer with their name alone. Customers are expecting a seamless omnichannel experience, where they can have better and quick alternative suggestions in place. This requires smart applications to read the customers' inputs to gain insights into their requirements leading to enhancing their browsing experience.
If, you want your customers to have better and more personalised experiences, then hire top professionals offering eCommerce website development services.
Drone-based delivery to become the next big thing
The delivery of products using drones is not a new technology or phenomenon. However, in the past few years, more companies are delivering their orders to customers using this technology and popularizing it.
In fact, experts are expecting that in the coming year 2022, the world may witness a good number of companies opting for drone-based product deliveries. It is important to note that drone technology is powerful enough to change the complete delivery experience. Top eCommerce companies are already investing in this area, and trying to incorporate the technology in their business models.
To cite an example, Google had recently launched a drone delivery service wherein it aims to help with deliveries from nearby malls to customers' homes as a mediator.
Final Words
The eCommerce industry is all set to adapt to a new set of technologies in the coming year 2022. If your website has not been upgraded, then it's high time that you invest in these technologies and hire top eCommerce website development services to stay relevant and competitive.