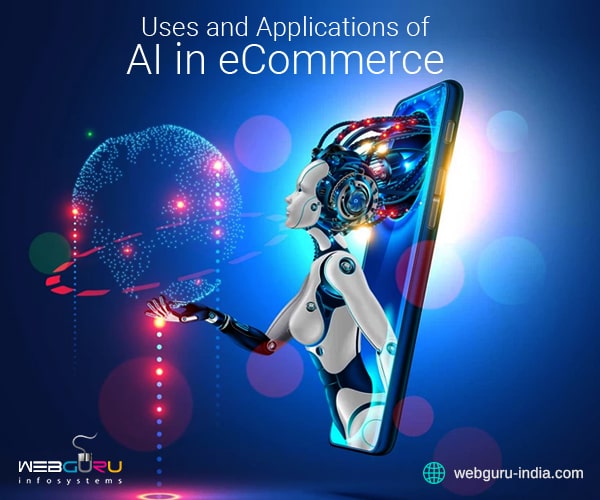 By now most of you might know what Artificial Intelligence (AI) is all about and how massively it has taken the world by storm. In case you need a quick recap, here is the definition for you. AI is a cutting-edge technology that allows machines to mimic human intelligence so that they can think and act like humans. Accordingly, it is deployed in various industries to manage colossal amounts of data and accomplish a wide range of complicated tasks, accurately and effortlessly. However, for our discussion here, we only highlight the application of AI in the eCommerce domain.
Frankly speaking, if you are to deliver a fantastic eCommerce user experience, you can't leave your online store cold and bland. From influencing customer choices and browsing habits to increasing customer engagement and sales, AI is a must-have for eCommerce innovations today. In fact, it is AI that humanises your eCommerce business and lets you connect with the audience effectively.
Let us discuss the rest in the following section…
Personalised shopping experience
Every time a visitor is on your website, data is generated across multiple touchpoints. So, when AI analytics is integrated to your website, the tool can analyse every piece of such data to tailor offers based on the needs and preferences of each individual. At the same time, AI-driven systems also utilise unstructured data from information found in ratings, reviews, and descriptions for proper product curation on the website.
Thus, with effective utilisation of both behavioural data and metadata, AI takes personalisation to another level where it feels like the system can almost read the users' mind. Personalised search results, offers, and product recommendations can not only help you meet customer expectations, but they may also increase business revenues by 15% (mckinsey.com). So, if you want to enhance the appeal of your online store, it is a must to leverage AI-backed personalisation for improving visitors' shopping experience.
Customer support with chatbots
Do you know chatbots can cut business operational costs by 30% by answering 80% of users' questions (smallbizgenius.net)? It is clear from these statistics that AI-powered chatbots play a critical role in improving customer retention, engagement, and loyalty.
Programmed to address users' queries without manual interference, chatbots can offer customer support, nurture leads, gather feedback, and recommend relevant products to customers. If you are wondering how to utilise the chatbot the right way for your business, take note of how brands are leveraging this AI application. Sephora, the leading cosmetic brand, has a chatbot on Kik that asks targeted questions to help visitors browse products they're interested in. On the other hand, eBay has expanded to providing ShopBot, a virtual shopping assistant for allowing each customer to find specific products on its platform.
And if you want to integrate a chatbot on your eCommerce website, you sure can do so. However, in that case, you may have to engage an eCommerce website development expert for technical assistance.
Visual search and image recognition
Remember the idiom 'a picture is worth a thousand words? The millennials seem to have resonated with it since 62% of them now prefer visual search on Amazon, Pinterest, and other channels over text-based searches. In fact, the scenario is quite pleasant for the eCommerce domain, as a report from Gartner suggests that visual search can increase the revenue of this sector by 30% in 2021 (gartner.com).
Once again, AI-based image recognition technology has opened the eCommerce door to visual search, helping customers find relevant products in a quicker time. For instance, Amazon has launched a brand-new shopping feature called StyleSnap on its app for swift product discovery. And as the users upload pictures on the search engine, the image recognition model finds similar products available on Amazon and furnishes all of that before them. So, are you ready to leverage visual commerce for your business?
Inventory planning and sales forecasting
Do you wonder how AI caters to the administrators or store owners? We give you the answer. Just how AI improves shopping experience and personalises customer journey, it also streamlines your action processes in many ways. Using AI-powered software, you can identify the most purchased and least popular items on your eCommerce platform during a particular time frame.
Added to that, you can collect data about past purchases and update the sales department about the same. Plus, utilising the AI mechanism can help predict how upcoming events or festivals can impact sales. Thus, being aware of the rise and fall in demand will help you drive important conclusions and strategic decision-making. All in all, the implementation of AI in eCommerce can assist you with managing inventories, streamlining storage and logistics, and thus eliminating unwanted costs.
Should you want an eCommerce store with capabilities like inventory management and tax & shipping integration, you can contact a website design company with sufficient expertise in building feature-rich online stores.
Do you have any other questions about eCommerce website building? Read Frequently Asked Questions about Ecommerce – Answered and then decide your next course of action.
Monitoring key performance metrics
Building an online store is just a modest start, as regular monitoring of the key performance indicators is what can help you find steady success in eCommerce. Earlier, it was a sheer struggle to gather and assess KPI data using traditional tracking tools. However, today, with the advent of AI mechanisms, administrators or marketers can analyse how their eCommerce websites are performing for important metrics like website traffic, the number of transactions, cart abandonment rate, customer lifetime value, and conversion rate among others.
Based on these metrics, you can decide if you are on the right track to achieving your business goals. Upon requirement, you may streamline the website structure, fine-tune the marketing strategy, and take other important actions to maximise your investment returns.
For now, do you need some tips to reduce the cart abandonment rate on your website? To gain some actionable insights, read this blog Say "NO" to Shopping Cart Abandonment with 10 Pro Tips.
Voice-enabled product searches
After powering the home automation market, AI-backed voice search technology is now filtering into the eCommerce domain and about to transform its face in future. Yes, this trend is still in its infancy, but take a look at how big retail brands are paving the way by using the voice search feature for customer interaction. For instance, Johnnie Walker, the Scotch whiskey brand, has paired with Google Home to launch its voice search feature that asks customers about their preferences and even recommends the most appropriate product for them.
Domino's, on the other hand, has initiated its own voice assistant on Facebook Messenger for receiving voice-based orders from the customers. It may take a long time before this technology gains vast acceptance, but you can plan something similar for your eCommerce brand to gain a competitive edge later on. Needn't get all worked up now. Just give it a thought when you deem fit.
Final Thought – So, you see, AI is not a flashy addition to your online store, instead, it has become essential for eCommerce innovation as a whole. As we discussed and highlighted here, harnessing the power of AI can simplify your retail business operations, ensure optimal utilisation of resources, and offer a personalised shopping experience to your valuable customers. Hope your shop grows and stays ahead of the competition using this avant-garde technology. All the best!