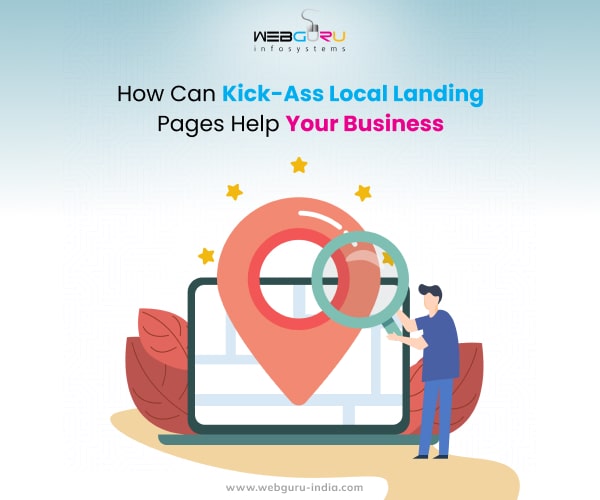 Today, businesses of all sizes need to have a strong online presence to stay competitive. One effective strategy for boosting your online visibility and driving local business growth is creating kickass local landing pages. In this article, we will explore the benefits and strategies behind these powerful tools and how digital marketing services worldwide create them to give businesses a competitive edge.
Understanding Local Landing Pages
Local landing pages are like special web pages that are meticulously crafted to cater to a specific geographic location. They go beyond regular website pages by focusing on the unique needs and preferences of local customers. These pages are designed to captivate the attention of people in your area, enticing them to choose your business over competitors.
They play a crucial role in your digital marketing strategy. By creating these specialized pages, you provide valuable and relevant information to potential customers in your locality. Think of it as rolling out the red carpet for your target audience, making them feel like they've found exactly what they're looking for.
These pages are laser-focused on the specific interests, desires, and pain points of local customers. For example, if you're a bakery owner, your local landing page might highlight your unique artisan bread and delectable pastries that are freshly baked every morning. You might also emphasize the convenience of your location, mentioning that you're just a short walk away from the city's main shopping district.
These pages serve as a digital bridge between your business and your local customers. They act as a magnet, attracting people who are specifically searching for products or services in your area. When done right, your local landing pages will show up in local search results and make a lasting impression on those who find them.
The Benefits of Having Great Local Landing Pages
1. Improved Local SEO
Local landing pages have a significant impact on search engine rankings and local SEO. Here's how:
Targeted Keywords: Incorporate local keywords throughout your content, meta tags, and headings to optimize for local search.
Meta Tags and Structured Data: Utilize meta tags, such as title tags and meta descriptions, and structured data markup to provide search engines with valuable information about your business and its location.
Google My Business: Optimize your Google My Business listing to improve local visibility and enhance search engine rankings.
Local Citations: Ensure your business information is consistent across online directories and local citations, as search engines consider this data when determining local relevance.
2. Enhanced User Experience
Creating great local landing pages helps you deliver an exceptional user experience. Here's how it benefits your potential customers:
Personalized Content: Craft content that speaks directly to the needs and interests of local customers. Highlight local events, news, and attractions to engage with your audience.
Relevant Information: Provide comprehensive and up-to-date information about your products, services, contact details, and opening hours.
User Reviews and Testimonials: Showcase positive reviews and testimonials from satisfied customers to build trust and credibility.
Social Proof: Display social media buttons and follower counts to demonstrate your business's popularity and encourage user engagement.
3. Increased Conversion Rates
Local landing pages are highly effective in boosting conversion rates. Here's why:
Targeted Messaging: Customize your calls-to-action (CTAs) and messaging to align with the local audience's needs and preferences.
Clear and Visible CTAs: Place prominent CTAs on your local landing pages to guide visitors toward desired actions, such as making a purchase, requesting a quote, or booking an appointment.
Landing Page Optimization: Continuously optimize your local landing pages by testing different elements, such as headline variations, button colors, and form placements, to maximize conversion rates.
4. Competitive Advantage
Creating high-quality local landing pages gives your business a competitive edge over others in your industry. Here's how:
Capturing Local Search Traffic: With well-optimized local landing pages, you can attract a larger share of local search traffic and outrank competitors.
Local Focus: Showcasing your commitment to the local community helps build trust and loyalty among potential customers.
Case Studies and Success Stories: Highlight successful campaigns or share case studies of businesses that have achieved tangible results through effective local landing pages.
Strategies for Creating Local Landing Pages That Create Conversions
To create impactful local landing pages that resonate with your target audience, consider the following strategies:
1. Conducting Thorough Keyword Research
When it comes to local landing pages, keyword research is essential for optimizing your content and targeting the right audience. Here's how you can make the most of it:
Utilize tools like Google Keyword Planner, SEMrush, or Moz to discover relevant local keywords that align with your business and target location.
Focus on long-tail keywords that include location-specific terms. For example, instead of targeting "bakery," target "artisan bakery in [location]" to attract more qualified local traffic.
Keep in mind that keyword stuffing is a big no-no. Strive for a natural flow in your content, ensuring that keywords are strategically placed to provide value to readers and search engines alike.
2. Optimizing On-Page Elements
To maximize the visibility of your local landing pages and improve the user experience, pay attention to the following on-page elements. Here's how you can better optimize your landing pages:
Craft compelling title tags, meta descriptions, and headings that incorporate relevant local keywords. These elements not only impact search engine rankings but also entice users to click through to your page.
Optimize your URLs, images, and internal links. Use descriptive and keyword-rich URLs, optimize image alt tags with location-specific keywords, and ensure your internal links are properly structured to enhance local search visibility.
It's crucial to make your landing pages mobile-responsive and fast-loading. Mobile devices are often the primary source of local searches, so optimizing for mobile ensures a seamless and engaging user experience.
3. Crafting Compelling Content
The content you create for your local landing pages should captivate your audience and address their specific needs. Consider the following tips:
Write engaging and informative content that resonates with local customers. Identify their pain points and provide solutions tailored to their location.
Incorporate local stories, testimonials, and case studies to showcase your business's local expertise and successes. This personal touch helps build trust and establishes a connection with your audience.
Break up the content with subheadings, bullet points, and paragraphs to make it easily scannable and digestible. This format enhances readability and allows users to quickly find the information they need.
4. Leveraging Local Citations and Reviews
Building a strong online reputation is crucial for local businesses. Here's how you can leverage local citations and reviews effectively:
Ensure your business information is accurate and consistent across local citations and directories. Inaccurate or conflicting information can harm your local SEO efforts.
Encourage satisfied customers to leave reviews and ratings on platforms like Google My Business, Yelp, or industry-specific review sites. Positive reviews not only boost your reputation but also serve as social proof to potential customers.
Promptly and professionally respond to all reviews, both positive and negative. Show appreciation for positive feedback and address any concerns raised in negative reviews. This demonstrates your commitment to customer satisfaction and builds trust with potential customers.
5. Monitoring and Analyzing Performance
Tracking and analyzing the performance of your local landing pages allows you to identify areas for improvement and refine your strategies. Consider the following steps:
Utilize tools like Google Analytics and Google Search Console to track key metrics and performance indicators. Monitor local search rankings, website traffic, and conversion rates to gain insights into your landing pages' effectiveness.
Identify patterns and trends in user behavior to understand how your audience interacts with your local landing pages. This knowledge helps you make data-driven decisions for optimization.
Conduct A/B testing to experiment with different elements such as headlines, CTAs, and page layouts. By comparing the performance of different variations, you can identify the most effective strategies to improve conversions and achieve better results.
Conclusion
Impressive local landing pages are an essential component of your digital marketing strategy. By implementing these strategies and creating tailored landing pages, you can improve your local SEO, enhance user experience, increase conversion rates, and gain a competitive advantage. Embrace the power of local targeting, personalize your content, and optimize your landing pages to boost your business's visibility, attract local customers, and drive sustainable growth in the digital age.