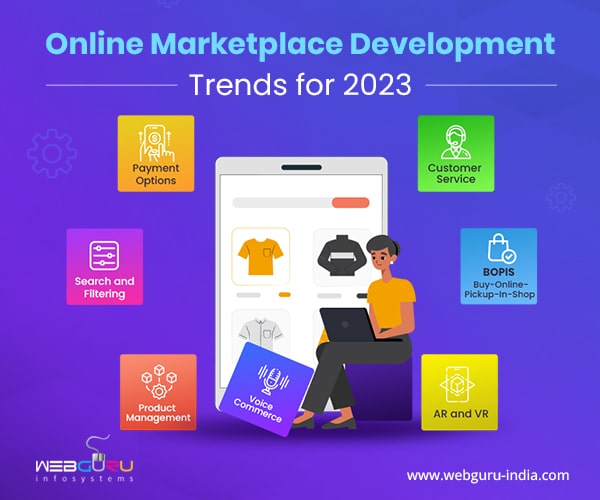 The world of e-commerce has come a long way, and marketplaces have become an essential part of this evolution. A marketplace is an online platform that allows multiple sellers to offer their products and services to a large audience. In today's digital world, marketplaces have become crucial for businesses to reach out to customers, and for customers to access a wide range of products and services. With the rise in e-commerce, it's important for businesses to understand the key features to consider during online marketplace development in 2023.
Top Features to Consider for Marketplace Development in 2023
Here are trends in marketplace development that you should look out for in 2023.
1. Multiple Payment Options
Payment integration is a critical component of any marketplace. Customers should have multiple payment options, including a secure payment gateway. Pay-on-delivery models, debit/credit card payments, UPI, and country-specific payment gateways (like Stripe, PayPal, PayUMoney, etc.) are standard across most eCommerce platforms. Besides these, consider adding additional payment options like mobile wallets and blockchain. With the increasing popularity of cryptocurrencies, many eCommerce marketplaces may begin to accept cryptocurrencies as a form of payment, providing a faster and more secure transaction process.
2. Search and Filtering
Search and Filtering capabilities are crucial for a successful marketplace. They make it easier for customers to find the products they're looking for and navigate the marketplace efficiently. Advanced search functionality and product filtering options allow customers to search by various specific attributes, such as size, color, material, brand, and price range, or even the kind of reviews an item has (e.g. "4 stars or more"). Search and filtering tools can be personalized to the customer's preferences and search history, making it easier for them to find relevant products. This makes the shopping experience more convenient and enjoyable for customers, and increases the likelihood of them making a purchase.
Additional options for easier searching can also be integrated. Semantic search uses natural language processing to understand the intent behind a customer's search query and provide not just more accurate search results, but also related products that the customer might require. Advanced search can also allow customers to search for products by uploading an image, which can be particularly useful for finding similar products or products with a specific design.
3. Product Management
Product Management is a crucial aspect of marketplace development. A centralized product database and product management tools for sellers are essential for maintaining the integrity of the marketplace. This ensures that customers have access to accurate and up-to-date information about the products available on the marketplace.
Sellers should have access to a variety of tools that allow them to manage their products effectively and efficiently. Sellers should be able to list their products in multiple categories, making it easier for customers to find what they're looking for. They should have proper inventory tools that help them keep track of their products, manage their stock levels, and prevent overselling or underselling. They also need access to good-quality analytics, price management, and review management tools as well. Additionally, promotional tools can help sellers create and manage promotional campaigns, including discounts, coupons, and special offers on specific products.
4. Customer Service
Customer service is an essential aspect of any marketplace. With the increasing competition in the eCommerce industry, providing exceptional customer support has become a crucial factor in retaining customers and gaining new ones. When customers have issues or concerns, they expect a prompt response and a satisfactory solution. This can be for concerns regarding their shopping experience or to raise issues about products they've purchased. Satisfied customers are more likely to return to the eCommerce marketplace for future purchases. By providing good customer support, eCommerce marketplaces can increase their repeat business.
Live chat support in the form of automated chatbots can help ensure that customer inquiries are handled efficiently. Modern chatbots are equipped with Natural Language Processing abilities, and should be a part of any eCommerce venture. These chatbots should be programmed to handle all kinds of common queries that a customer can have, ranging from product replacements to return policies.
An option for buyers and sellers to escalate issues to human support is also crucial. This can be in the form of email support, a chat over social media, a phone call, or even video call support if possible.
5. Buy-Online-Pickup-In-Shop (BOPIS)
Buy-Online-Pickup-In-Shop (BOPIS) is a feature that allows customers to purchase products online and pick them up in-store. This option is becoming increasingly popular as it offers customers the convenience of online shopping and the opportunity to physically inspect the product before making a purchase. Incorporating BOPIS into a marketplace can increase foot traffic to brick-and-mortar stores, reduce shipping costs and delivery time, and increase the likelihood of customers making additional purchases.
BOPIS is a straightforward feature to integrate into a marketplace and can simply work alongside the existing delivery and logistics systems. The customer selects the BOPIS option (instead of delivery) at checkout and the retailer sends a notification when the order is ready for pickup. By incorporating BOPIS, businesses can provide a convenient and flexible shopping experience for customers and stay ahead of the competition in the rapidly evolving e-commerce landscape.
6. AR and VR
Augmented Reality (AR) and Virtual Reality (VR) technologies have become increasingly popular in recent years. AR and VR can provide customers with an immersive shopping experience, allowing them to visualize products in a virtual environment. These technologies can allow customers to virtually try on clothes, makeup, or accessories, enable customers to view products from all angles, and even interact with products, providing a more hands-on and engaging shopping experience. Additionally AR can help you see how your product would look customized in terms of color, size, etc., while VR can let you see how it would look in another environment (like your living room). Such try-before-you-buy experiences make them a valuable feature to consider in marketplace development.
7. Voice Commerce
Voice Commerce refers to the use of voice-activated devices such as Amazon Alexa and Google Home to make purchases. The increasing popularity of these devices makes it essential for businesses to integrate voice commerce into their marketplaces. This feature provides customers with a hands-free and convenient shopping experience, making it easier and more convenient to make purchases.
Voice commerce has the potential to revolutionize the way customers shop. With voice commands, customers can quickly and easily search for products, compare prices, and make purchases without ever having to pick up their phone or computer. This can be particularly beneficial for customers who are on the go, busy, or have mobility challenges. Additionally, the integration of voice commerce can also provide businesses with valuable customer data, such as purchase history and preferences, which can be used to personalize the shopping experience and improve marketing strategies.
We have discussed some features that will play a big role in online marketplace development in 2023. However, another equally important aspect that decides a marketplace's success is 'user experience', or UX. A user-engaging and innovative shopping interface will encourage users to not only make purchases, but also become returning customers. As the UX development landscape constantly evolves, so do the ways in which customers interact with business, bringing about new trends and innovations in the shopping experience. Therefore, UX is something that cannot be ignored during marketplace development. For further insights, read our blog on UX trends that will define the future of eCommerce.
Conclusion
There are many important features to consider when developing a marketplace in 2023. From product management and advanced payment integration to voice commerce and AR/VR, these features are crucial for businesses to attract and retain customers. When implemented effectively, these features can help businesses to create a thriving marketplace that provides a seamless shopping experience for customers.