The featured snippet is the search result that is displayed on top of the first SERP (Search Engine Result Page). The position that a featured snippet occupies is usually known as "position zero". This is due to the fact that a featured snippet is the top organic result that comes right after the ad.
Featured snippet provides the marketers with a fair chance to acquire greater visibility, drive traffic to their site, boost conversion, and thereby beat the competitors. Moz reports that the Click-Through Rate (CTR) is increased from 2% to 8% when it's placed in a featured snippet.
Today, we will discuss on optimizing content for a featured snippet on Google since it is arguably the most popular search engine. But before that, let's take a look at the distinct types of featured snippets.
# Main Types of Featured Snippets
The first step to accomplish when you seek to rank for Google's featured snippet is to decide which type of snippet you are targeting or your competitors are ranking for. If you want number list featured snippet, you cannot write the content in a paragraph format.
Go through the following passages to learn about various types of featured snippets and pick your preferred one for the next content.
1. Paragraph Featured Snippet
This is the most common type of featured snippet. Studies reveal that 81.95% of all the featured snippets are in a paragraph format (source: Moz).
For example, take a look at this: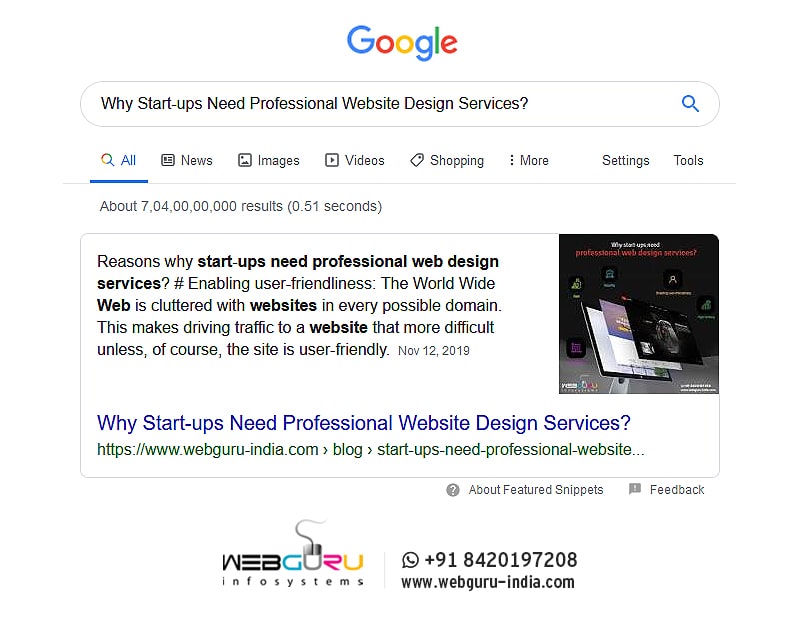 2. Bullet List Featured Snippet
Such featured snippets display various aspects/areas/types related to a topic/process. Here's an example: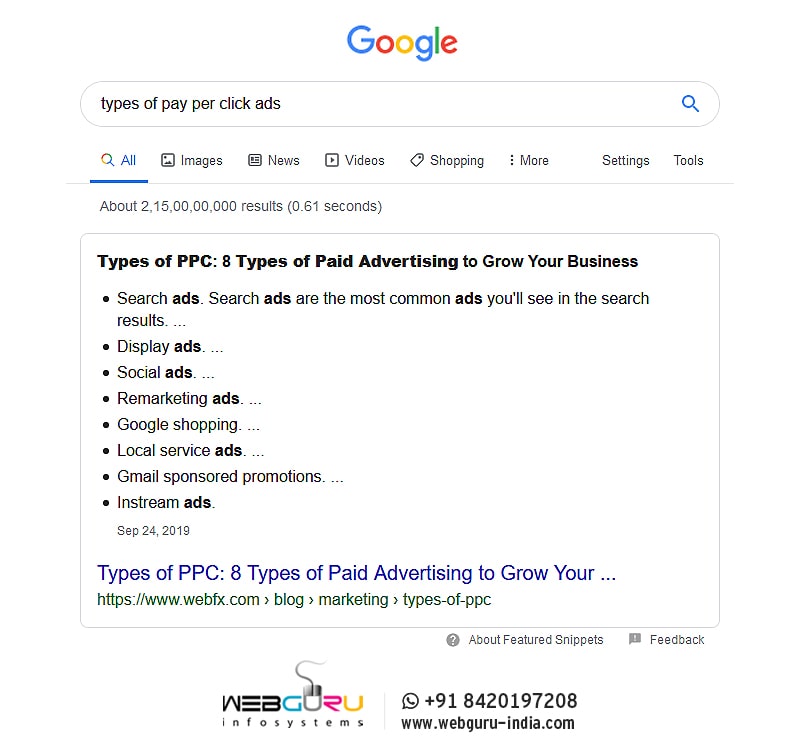 3. Numbered List Featured Snippet
Here, the various aspects/areas/types of a topic or process are explained through multiple steps. Take a look at this: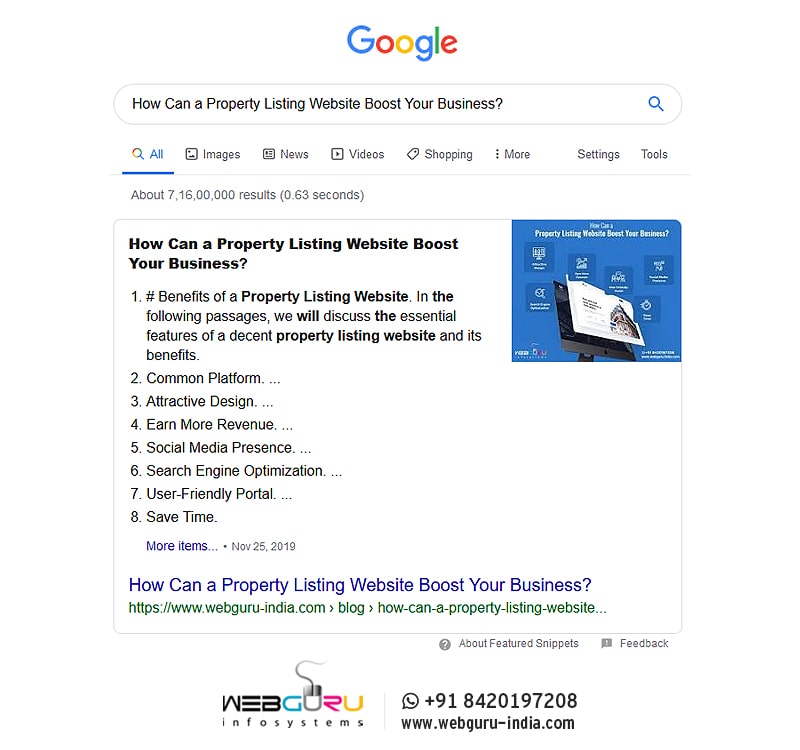 4. Table Featured Snippet
The table featured snippets generally show lists and statistics. For example: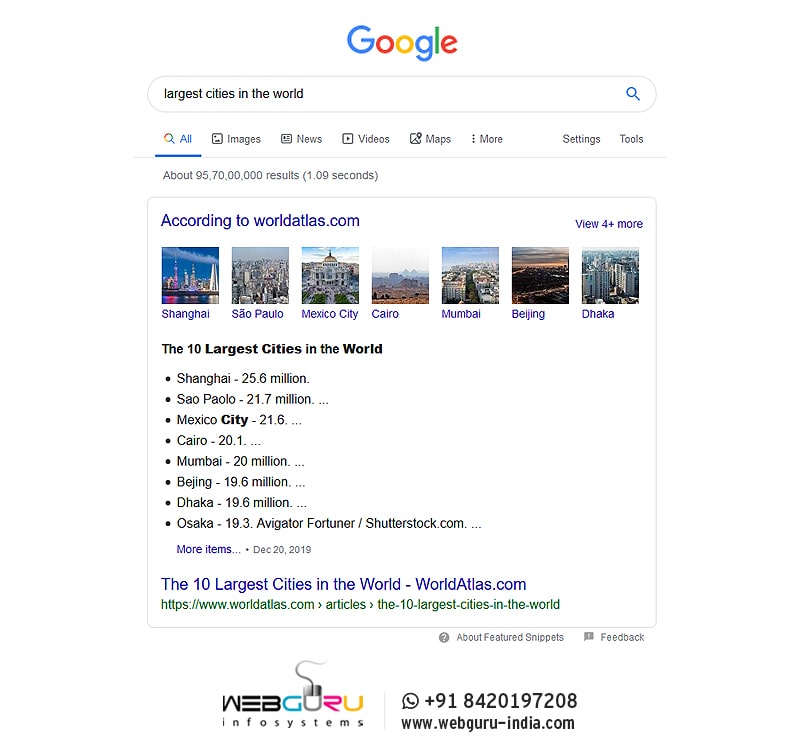 5. YouTube Featured Snippet
It's important to optimize the title and descriptions of YouTube videos because Google pulls information from YouTube to show it in the featured snippets. Google can also show a little clip from the video. For instance: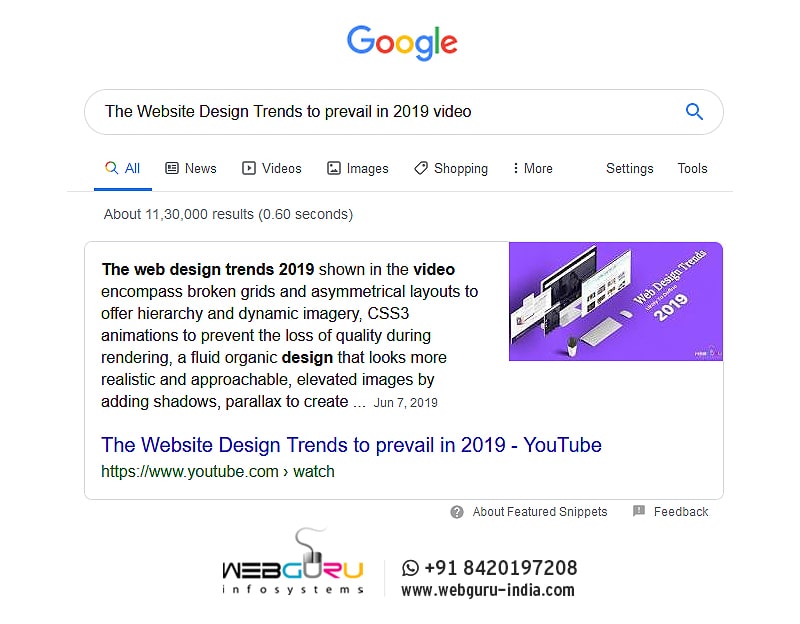 # How to Rank in Google for Featured Snippets
The featured snippet gives answers to the search queries in a direct manner that is quick, convenient, and easy to read. Google generally extracts the information right from the content.
Now, we will explore a few strategies you need to adopt so that the content may obtain a place in the featured snippet.
1. Long-Tail Keyword
The long-tail keyword has a higher chance to trigger featured snippets. You may assume that Google would prefer to show featured snippets only for the most popular keywords. But that is not the case at all.
Most of the featured snippets are generally triggered by long-tail keywords because these are more specific. Therefore, instead of stuffing numerous keywords (read more on the ideal keyword density your content should have), write an in-depth article with one or two long-tail keywords.
This leads us to the next point.
2. Generate Relevant Content Idea
Before writing the content, check what questions your audience is actually trying to find answers for. Whatever topic you are writing on, type the same in Google. You will find various questions in the "people also ask" section. These questions are related to your search query. You can also find questions in the lower part of the SERP.
All these questions can generate a great content idea. Try to answer some of these questions and your content may get a place in the featured snippet.
Learn how to increase conversion through content marketing.
3. Target Questions, not Keywords
As we already mentioned, keyword stuffing is a big no-no in today's digital world. Provide succinct answers to satisfy the users' query. Google prefers to offer concise and short information – and you also need to incorporate this strategy while writing content. Make sure that the content is user-friendly and answers the queries directly.
Here, you will find some pro tips to write engaging web content.
4. Organize the Information
Google algorithm prefers structured content. So, it's better to incorporate lists, comparison charts, or relevant table. Especially, if you are writing how-to content, it's better to list the names, steps, numbers, etc.
Also, keep each section concise and tight so that Google can easily feature the content. According to an analysis by SEMrush, the ideal length of each paragraph should be between 40-50 words in order to get placed as a featured snippet.
5. Focus on On-Page SEO
The contents displayed as featured snippets are generally pulled from pages which already have a high organic search ranking. Therefore, you must focus on improving the on-page SEO tactics. Here are a few strategies on how to improve on-page SEO recommended by the experts at any top SEO agency –
Customize the meta title and description in order to attract the users to check your page and thereby increase traffic and CTR (Click-Through Rate).
Update content regularly.
Keyword optimization is crucial but avoid keyword stuffing at any cost. Also, make sure that the keywords appear naturally in the content and don't appear to be contrived.
If you are not getting desired results from your SEO practices, here are a few steps that you may follow to avoid making any SEO mistake.
These little changes in your SEO strategy can help you to derive better results.
6. Use Header
One simple and quick way to format the content for featured snippet is to break it up in multiple sections and organize these with relevant headers. You may also chronologically arrange the headers as step 1, step 2; or rule 1, rule 2, and so on.
7. Add Image and Video
Shiflearning reveals, visuals can be processed 60,000X faster in the brain than a simple text. But a poor quality image or video can produce a negative impact on user-experience and in turn, increase the bounce rate.
This is why ensure to upload high-quality pictures and video. Learn how to use images in the website to produce better results. Also, create a voice transcript for the videos. Google will recognize the text and may choose it for a featured snippet.
Conclusion
Earning a featured snippet means you are ranking for position zero, that is the highest position available without advertising. (Check out some tested methods to increase organic leads.)
Therefore, if you seek to drive more traffic to your website, boost conversion, enhance brand visibility, and grow brand awareness among the audience – ranking for a featured snippet is the answer.
Start by considering the type of featured snippet you want to rank for and implement our above-mentioned strategies to achieve the same – either in-house or by engaging an agency offering professional digital marketing services.